2018 Featured Presenters & Performers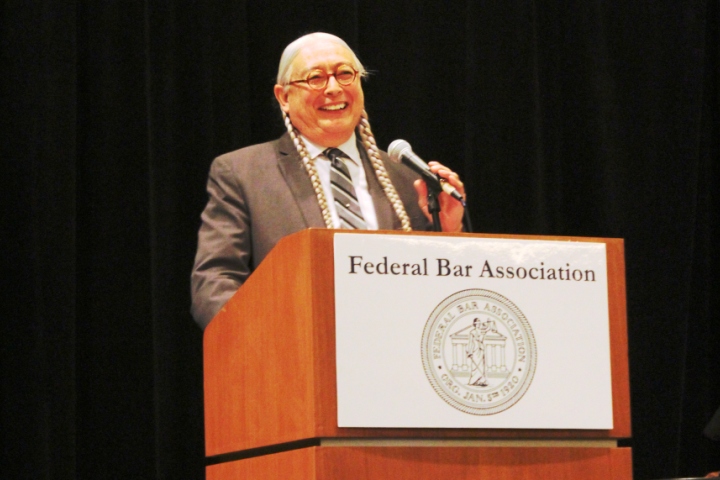 Author, attorney and legal scholar Walter Echo-Hawk was the Dan and Maggie Inouye Distinguished Chair on Democratic Ideals at University of Hawai'i's Law School (Spring 2018). He authored In The Light Of Justice (2013), In the Courts of the Conqueror (2010), and Battlefields and Burial Grounds (1994). His new book, The Sea of Grass, will be released in June of 2018. He is a Pawnee Indian with a B.A., Political Science, Oklahoma St. Univ. (1970), and JD, UNM (1973).
Echo-Hawk practices law in Oklahoma. He is Chair of the Board of Directors for the Association of Tribal Archives, Libraries and Museums. As a staff attorney of the Native American Rights Fund from 1973-2009, he represented Indian Tribes, Alaska Natives, and Native Hawaiians on significant legal issues in the modern era of federal Indian law, during the rise of modern Indian Nations in the tribal sovereignty movement. He litigated indigenous rights pertaining to religious freedom, prisoner rights, water rights, treaty rights, and reburial/repatriation rights. Echo-Hawk is admitted to practice law before the US Supreme Court, Colorado Supreme Court, Oklahoma Supreme Court, Courts of Appeals for the 8th, 9th, 10th and District of Columbia Circuits, Federal Claims Court, and several US District Courts.
From 1986-1990, Echo-Hawk represented tribal clients to obtain repatriation legislation, which set precedents for legislation in Nebraska and Kansas directing museums to return and rebury dead bodies and grave objects to Tribes of origin, led to the 1989 reburial agreement with the Smithsonian Institution enacted into the National Museum of the American Indian Act, and culminated in the passage of Native American Grave Protection and Repatriation Act (NAGPRA).
Other notable work includes his 1990-1994 representation of the Native American Church of North America to obtain passage of the American Indian Religious Freedom Act Amendments of 1994, and his 2010 representation of the Klamath Tribes in a trial to quantify treaty-protected Indian water rights for hunting, fishing, and gathering purposes, as well as various Tlingit tribes to repatriate sacred objects and cultural patrimony.
Most recently, Echo-Hawk represented Oklahoma tribes, sat on the Supreme Courts of the Pawnee and Kickapoo Nations, and taught law at TU Law School and Lewis & Clark Law School.
Bobby Bridger is a singer, songwriter, author and painter. Over his fifty year career, Bridger has performed all over America and Europe on National Public Radio, Austin City Limits, PBS's American Experience, Good Morning America, and CNN. Bridger also starred in Dale Wasserman's groundbreaking musical Shakespeare and the Indians and was featured with David Carradine and Will Sampson in the drama Black Elk Speaks. Bobby has been the artist in residence at the Buffalo Bill Historical Center in Cody, Wyoming, the Eugene O'Neill Theater Center in Waterford, Connecticut, the John G. Neihardt Center in Bancroft, Nebraska, and Yellowstone National Park. Bridger is the 2016 recipient of the Neihardt Foundation's prestigious Word Sender Award.
In 2013, he contributed a historical interview and original music to the Smithsonian Institution's National Museum of the American Indian exhibition entitled Treaties: Great Nations in Their Own Words in Washington, D.C. He is also the author of the award-winning books Buffalo Bill and Sitting Bull: Inventing The Wild West and A Ballad of the West and has contributed essays to anthologies on western icons Frank Waters and John G. Neihardt.
"Lakota" is Bridger's epic ballad depicting Lakota holy man Black Elk telling his life story to the epic poet John G. Neihardt in 1931 South Dakota, which served as the basis for Neihardt's classic Black Elk Speaks.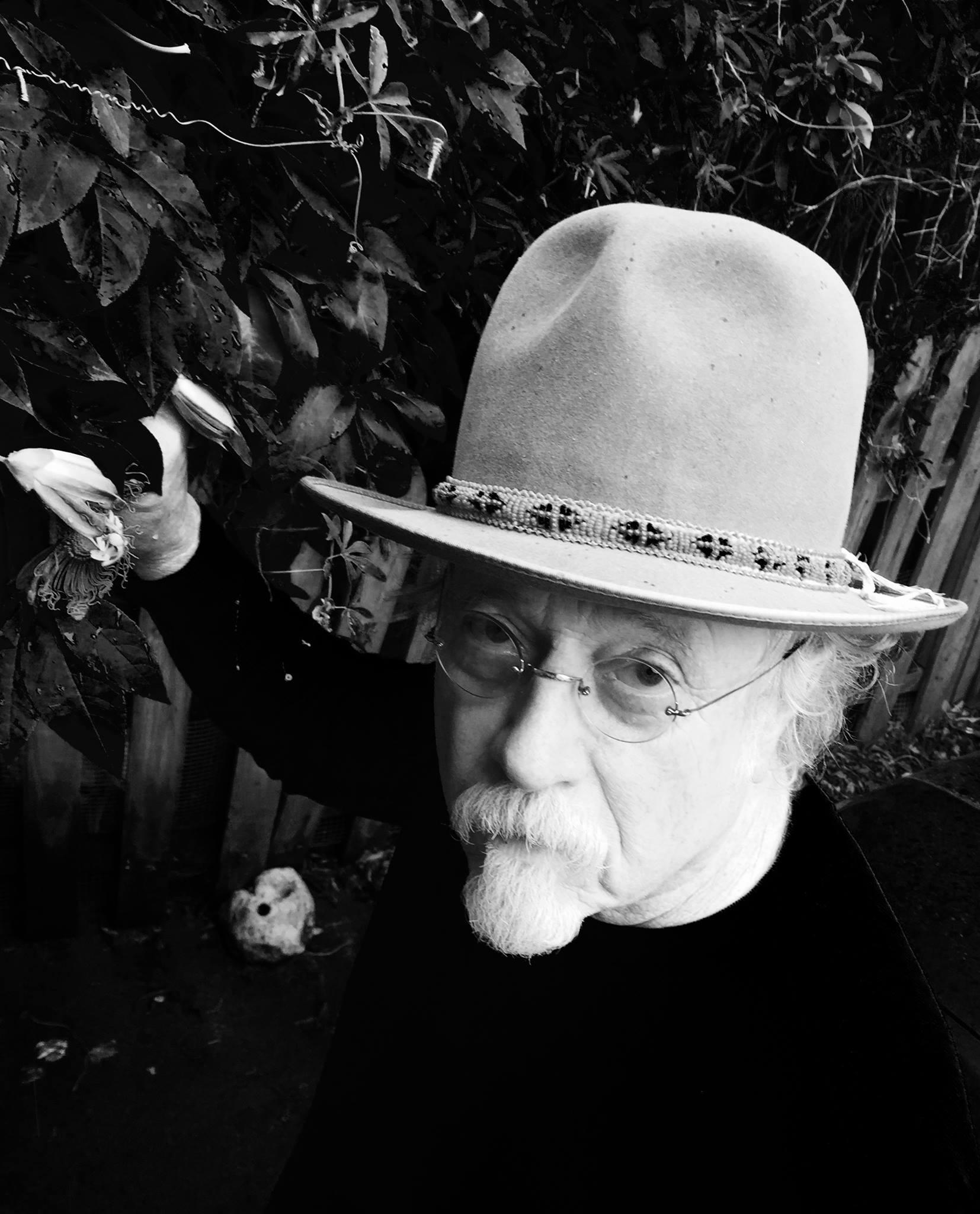 Bunky Echo-Hawk is a multi-talented Pawnee and Yakama artist whose work spans both media and lifestyle. A graduate of the Institute of American Indian Arts, he is a fine artist, graphic designer, photographer, writer, and non-profit professional. He is also a traditional singer and dancer.

Throughout his career, Bunky has merged traditional values with his lifestyle and art. He has exhibited his work in major exhibitions in New York City, Chicago, Denver, Santa Fe, Frankfurt, Germany and Goteberg, Sweden, to name a few. His poetry has been published in magazines and anthologies throughout the country, and his plays have been performed and produced across the nation. Bunky is also an advocate and an educator. He travels extensively, creating live works of art for auction. Through his art, Bunky has raised thousands of dollars for national non-profit organizations. He has performed at numerous major venues throughout the United States. Additionally, he speaks at conferences, conducts workshops, and teaches both art and writing.

In 2006, Bunky co-founded NVision, serving as Executive Director until 2009. NVision is a non-profit collective of Native American artists, musicians, community organizers, and non-profit professionals who focus on Native American youth empowerment through multimedia arts. Bunky received a 2017 Native Arts & Cultures Fellowship, a 2008 First Peoples Fund Business in Leadership Fellow, a 2008, 2012 and 2017 United States Artist Fellow nominee, a 2008 Joan Mitchell Foundation Fellow nominee, and a 2008 Boulder County Multicultural Award recipient.

In 2010, Bunky signed with Nike and is designing for the Nike N7 line. Bunky lives and works in Pawnee, Oklahoma.
Mary Kathryn Nagle has successfully pursued two careers, both as a lawyer and a nationally recognized playwright. She was born in Oklahoma City, Oklahoma, and is a citizen of the Cherokee Nation of Oklahoma, and an honorary member of the Ponca Tribe of Nebraska. She studied theater at Georgetown University and law at Tulane Law School. Since 2015 she has been a partner at Pipestem Law in Tulsa, a firm specializing in tribal sovereignty of Native nations and peoples. Ms. Nagle has published articles in five law journals, and her plays have appeared in major regional theatres across the country, most recently the Arena Stage in Washington, DC (Sovereignty). Her play Manahatta, which was named a top-three Finalist for the 2014 William Saroyan Prize, runs May 2018 in New York City at the Public Theatre, where she is an alum of the Emerging Writers Group.
Madeline Sayet is a director of new plays, classics and opera who believes the stories we pass down inform our collective possible futures. She was named to Forbes' 2018 30 Under 30 List in Hollywood & Entertainment, is a TED Fellow, a MIT Media Lab Director's Fellow, and a National Directing Fellow. A member of the Mohegan nation, she was the Resident Director at Amerinda (American Indian Artists) Inc. in New York from 2013-2016 where she developed new plays by Native playwrights and launched the Native American Shakespeare Ensemble. Her recent work includes: Qui Nguyen's She Kills Monsters (Connecticut Repertory Theater), As You Like It (Delaware Shakespeare), The Winter's Tale (Amerinda/ HERE Arts), Poppea (Krannert Center, Illinois), The Magic Flute (Glimmerglass), Macbeth (NYC Parks), Sliver of a Full Moon (various), Daughters of Leda (IRT/Culture Project), Powwow Highway (HERE), Miss Lead (59e59), and The Tempest (various). This summer she will be directing the world premiere of Whale Song by Cathy Rexford at the Perseverance Theatre in Alaska.
Joseph Marshall III was born and raised on the Rosebud Sioux Indian Reservation and is an enrolled member of the Sicangu Lakota (Rosebud Sioux) tribe. Growing up in a traditional Lakota household with his maternal grandparents, he learned the ancient tradition of oral storytelling and his first language is Lakota.

Joseph taught at both the high school and college levels and developed Native Studies curricula. For several years he worked for the Rosebud Sioux Tribe, and he now writes full time. He has published nonfiction works, novels, collections of short stories and essays, and has written several screenplays. Many of his books are published in countries around the world, including France, Germany, Italy, Bulgaria, Korea, China, Japan, Romania, Brazil, Spain, and Israel. Joseph has won several awards for both the text and audio versions of his book.
He worked as technical advisor and narrator for the TNT and Dreamworks Television six-part mini-series Into the West and played the on-screen role of "Loved by the Buffalo," a Lakota medicine man. He is a practitioner of primitive Lakota archery, having learned from his maternal grandfather the art of hand crafting bows and arrows, and is a specialist in wilderness survival.
One of his most treasured and meaningful experiences was serving as a founder of Sinte Gleska University on the Rosebud Reservation in 1971. He is one of the Charter Board Members. As a speaker and lecturer, Joseph has appeared in many venues throughout the United States and in countries across the globe.
Xiuhtezcatl Martinez (first name pronounced 'Shoe-Tez-Caht') is a 17-year-old Indigenous climate activist, hip-hop artist, author, and Earth Guardians Youth Director, an organization with involvement in over 30 countries.

From the age of six, Xiuhtezcatl has been speaking and traveling across the globe. He has addressed both the United Nations Summit in Rio de Janeiro and the General Assembly at the United Nations in New York. His work has been featured on PBS, Showtime, National Geographic, Rolling Stone, Upworthy, Al Jazeera, The Guardian, Vogue, Bill Maher, The Daily Show, Skavlan, Q&A, AJ+, CNN, MSNBC, HBO, VICE, and more.

In 2013, Xiuhtezcatl received the 2013 United States Community Service Award from President Obama and was the youngest of 24 national change-makers chosen to serve on the President's youth council. He is the recipient of the 2015 Peace First Prize, the 2015 Nickelodeon Halo Award, the 2016 Captain Planet Award, the 2016 Children's Climate Prize from
Sweden, and the 2017 Univision Premio's Ajente de Cambio Award.
Gayle Ross is storyteller, an enrolled member of the Cherokee Nation, and a direct descendant of John Ross, Principal Chief of the Cherokee during the infamous Trail of Tears. Her grandmother told stories and it is from this rich Native American heritage that Gayle's storytelling springs. For the past twenty-five years, Gayle has appeared at almost every major storytelling and folk festival in the United States and Canada, as well as theaters and performance arts halls throughout the US and Europe. Gayle is lecture artist on college campuses and a keynote speaker at education and humanities conferences and continues to mesmerize children at countless schools and libraries across the country.
The prestigious National Council of Traditional Arts has included Gayle in two of their touring shows - "The Master Storyteller's Tour" and the all-Native show "From the Plains to the Pueblo." Internationally acclaimed musician and composer Peter Buffet featured Gayle and her stories in his epic stage performance "500 Nations," based on the CBS mini-series produced by Kevin Costner. Gayle also produced and directed an all-Native show entitled "Full Circle." Gayle was invited by then-Vice President Al Gore to perform at a gala at his residence entitled "A Taste of Tennessee" and she was chosen by the Clinton White House as the only Native American speaker at the giant "Millennium on the Mall" celebration in Washington, D.C. First Lady Laura Bush also selected Gayle to perform at the National Book Festival's Opening Gala.
As the author of five critically acclaimed children's books, Gayle has spoken at the American Library Association, the International Reading Association and the International Board for Young People. She was recently featured in the ground-breaking American Experience series "We Shall Remain" in the Trail of Tears episode. Her stories have been heard on National Public Radio on such programs as "Living on Earth" and Mountain Stages. From the kindergarten classroom to the college campus to the Kennedy Center, Gayle's stories have enthralled audiences of all ages.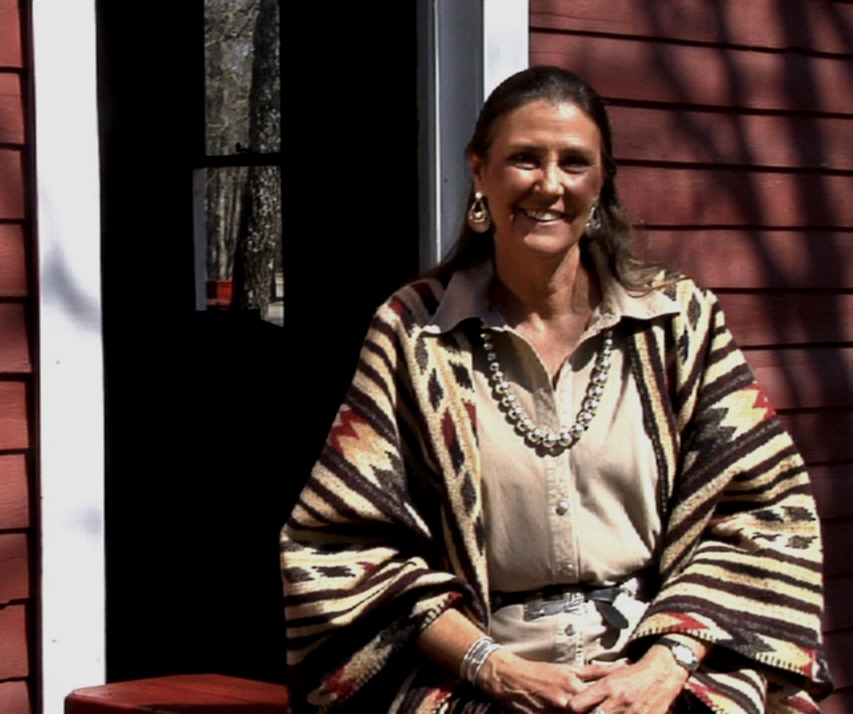 After graduating from Yale University, Sam Scinta joined North American Press, a division of Fulcrum Publishing, as a research associate. Sam received his J.D. from the University of Denver, where he was Editor-in-Chief of the Transportation Law Journal, and worked as a public finance attorney for three years. He returned to Fulcrum as Vice President and Associate Publisher, and in December 2006, was named President and Publisher. The creator of Fulcrum's best-selling Speaker's Corner Books series on contemporary political and social issues, Sam has edited two collections, Spirit and Reason: The Vine Deloria, Jr. Reader and Parting Shots from My Brittle Bow (with Eugene McCarthy). During his tenure at Fulcrum, the company became one of the leading publishers of Native American books in the nation, focusing on contemporary social and political issues. He served as President of the Board of Publishers Association of the West, President of the Wisconsin Center for the Book and Board member of the Jefferson County (Colorado) Public Library Foundation. A frequent speaker on the state of book publishing, in 2007 he was named as one of the "Ten to Watch" in the Denver arts and culture scene by the Rocky Mountain News.
In 2015, Sam founded IM Education, Inc., a non-profit focusing on education programming, and currently manages critical thinking and writing programs at several high schools in Western Wisconsin, among other programs. He is a Lecturer in the Political Science Department at the University of Wisconsin-La Crosse, focusing in political theory and American government. A frequent speaker on civics and critical thinking, he produced a series of lectures on privilege for the La Crosse Synod of the Evangelical Lutheran Church in America in 2015-2016. He is a member of the Board of Curators of the Wisconsin Historical Society and the Board of the Winding Rivers Library District.
From recording her first song at the age of two to her time as a contestant on NBC's The Voice, Brooke Simpson is no stranger to music. A powerhouse vocalist passionate about songwriting and people, Brooke grew up singing in churches across the country with her family. Brooke's greatest musical influences include Christina Aguilera, Tina Turner, and the Spice Girls, but none influenced her more than her mother, Jimille Mills.

Brooke was the female vocal winner of the International Teen Talent competition, which awarded her the opportunity to attend Lee University in Cleveland, Tennessee. During her college years, Brooke began to dig deeper into songwriting and released her first solo EP.

Brooke auditioned for NBC's The Voice shortly after college. Although she didn't make it past the preliminary rounds, she continued to refine her songwriting skills. Four years later, she received a phone call from The Voice asking her to give the show another try. That audition got Brooke a four chair turn from the judges and a chance to work with Miley Cyrus. Week after week, Brooke's performances on the show charted on the iTunes top 10. She ended the 13th season of The Voice in third place.

With a large and ever-growing fan base, Brooke is touring, writing, recording, and has released her debut single, "2AM," which charted on the iTunes pop charts.
As a founding member of the legendary Lost Gonzo Band, his peers know John as one of the finest guitarists in Austin, Texas. His fans know him as the signature guitar style that at one time or another propelled the music of Jerry Jeff Walker, Townes Van Zandt, Ray Wylie Hubbard, Jimmie Dale Gilmore, Delbert McClinton, Jimmy La Fave, Eliza Gilkyson, Marcia Ball, Omar and the Howlers, Bruce Robinson, Pat Green, Michael Martin Murphy, Keith Skyes, Larry Joe Taylor, Bobby Bridger and many more. As the winner of the Texas Music Awards and the coveted "Producer of the Year" award in 2012, John has become a sought-after producer, producing records for artists nationwide.
John will accompany Bobby Bridger for his performance at Record, along with Gabe Bridger, for a one-of-a-kind performance.